True Blood isn't staying True? The Gay Eunuch.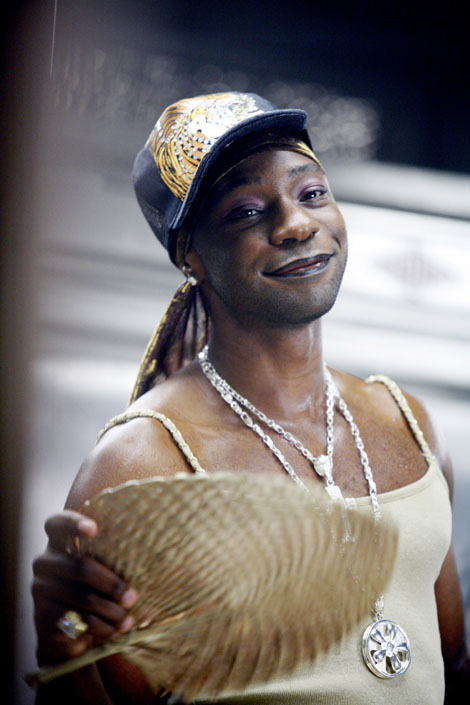 True
Blood came on Sunday night. I love True Blood. I have to say it is truly one of my guilty pleasures, but it is quickly weaseling its way out of the 'guilty' category. Why? Sure, it's campy, and sure, it's full of supernatural beings, but its character development rocks.
Here's the funniest thing
: A lot of people are really ticked about the way the characters are developing this season.
The gay character is actually - WHAT A SHOCK - finally expressing the gayness on TV! He's got a boyfriend, and they talk dirty to each other. There's been gay sex graphically portrayed. Also, there are fairies, werewolves, werepanthers, and the ubiquitous vampires.
Recently, while having our household True Blood party, Pseudo-Brother-In-Law said, "They need to keep the show realistic." This was in regards to the introduction of fairy folk into the show. Of course, Partner and I turned to him asking, "You want reality on a show about vampires and werewolves?"
But, what I don't get is the virulent outrage this season when presented with said gay sex. For two seasons prior, audiences have been tuning in with record numbers to see vampires and humans have sex in pools full of blood. I think there's a story line in there, but I distinctly remember the sex in blood. Several times. Sex while drinking blood, sex before killing, sex after killing, sex in order to kill. This season, though, there have been quite a number of instances of gay sex, gay dirty talk, gay gay gay all up on the TV.
Poking around on the internet, I've found several forums and debates going on where supposed long-time fans of the show are saying that the 'barrage' of gay sex is enough to turn them off of the series altogether. I'm just curious what folks thought was going to happen - in a show whose is appeal is couched in sex - with the introduction of more gay characters. Did folks think the gays are here to make everyone laugh? Merely entertainment for the masses?
I used to watch a fabulous show called Queer as Folk. On it a character named Brian was giving hell to a character named Emmett about being the local Queer Guy. You know, one of those gay makeover guys. Brian said that all of those fans of Emmett's wouldn't be his fans if they knew he fucked. If they knew he went home to a guy at night, got naked, and did very dirty things that won't be mentioned on this blog. His argument is that society at large wants to laugh at the little gay man, watch him prance and make jokes and be sassy. They're fine with him being a well-dressed, make-up wearing, mainstream pop-listening, image obsessed guy that takes your girlfriend shopping while you play video games with your bros.
The gay eunuch doesn't have a penis, and if he does have a boyfriend, he doesn't have a penis either. They're like Ken dolls. Pretty, well-proportioned guys without any orifices to speak of.
I have to admit, after growing up with a show lineup choice that never included gay folks doing gay things, it was quite surprising to see a mainly heterosexual show go there. But, I'm glad it did. The writers aren't ignoring the personal lives of their gay characters. They could have easily continued on with the rest of the characters and left the gay ones superficial, one-dimensional eunuchs. As is, True Blood is becoming one of the first shows on television to fully develop every single character as a complete human.
And I love them for it.
Tell me what you think about the new developments in season three of True Blood! Comment, tweet, or email
IncitingARiotPodcast@gmail.com
!
Love and Lyte,
Fire Lyte