A Mural in Maine: Unions as the New Scapegoat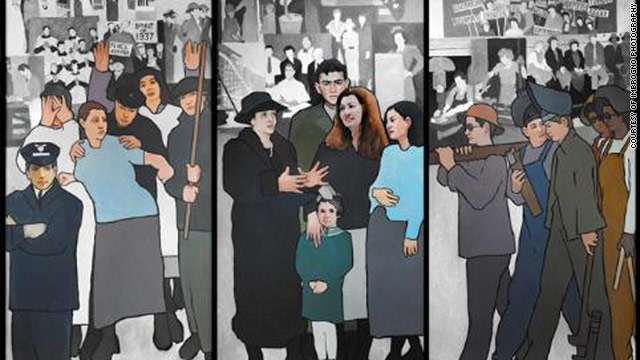 Within
the last week news has broken that the Republican Governor of Maine, Paul LePage,
ordered the removal of a mural from the state's Labor Department building's lobby
. Adrienne Bennett, Press Secretary for the governor, said that the mural was in storage awaiting a more appropriate venue for it to be displayed. But, what's the problem with a mural in a building? Lots of big government buildings have art in them by artists from that state. It's great for state pride, morale, and it helps support the arts. All good things, right?
Well, if you haven't noticed recently the Republican party seems to be waging a war against organized labor - or unions. Right now a simple Google News search for the word 'Union' will pop up nearly 39,000 articles on the subject. Sure, they're not all current and relevant, but it's major news and has been for the past couple of months. In states where Republican legislatures seem to rule (like Ohio, Idaho, Wisconsin, Iowa, Minnesota, Oklahoma, and Michigan, just to name a few), those governments have decided - arbitrarily it seems - that 2011 is the year of the Great Union Bust. State and local governments are running out of scapegoats for reasons why the economies of their respective areas of rule are still in disrepair, so they're turning to a tried and true Republican talking point.
Now, both on the blog and on the show, I have made it clear that my views on Unions range from neutral to slightly negative. However, I can say with pretty much no level of uncertainty that unions are not the cause for states verging on bankruptcy. (
To learn a bit about Unions in America, click here. I warn you: there are numbers and math and charts and other tools of torture.
) Union workers make up only 12.4% of the total workforce. While I am sure we could pull our Economic Disparity charts out and show the unfair distribution of wealth between rich folks and the rest of us, most folks in a union aren't rich. They're teachers and plumbers and police officers and firefighters and manual laborers and folks working in jobs that are so low on the totem pole they wouldn't normally make very much money at all if not for labor unions. They're workers. Sure, there are problems with unions - like keeping bad employees far too long once they've received membership - but the folks in these unions do hard work and deserve better than we give.
Let's take Wisconsin for example. The big battle up there is over teacher's union rights. The governor made demands, saying he wouldn't proceed with union busting legislation if the unions agreed to lower fees, lower wages, lower a whole bunch of stuff. The union did, and the governor just said, "Never mind. Screw you," and decided to proceed anyways. That's not fair play in my book. It's also kind of exposing the truth behind much of this union busting ideology: it's not about the economy. If it were, then lowering all those fees and costs and wages and things would be the big bartering chip. Apparently, they're not.
This is not a case of economic collapse caused by unions that
if they would just lower their fees and rates and other financials
would be solved. If it were, then the governor of Wisconsin wouldn't have backed out of his deal with the unions and proceeded with his cause. If it were, then we would be seeing officials and union representatives meeting to discuss these matters and come to some sort of arrangement. When the infrastructure is in disrepair and costing too much money, you don't just blow up the roads and go back to wagons. You find a way to fix the problem. So...I'm having a hard time believing that, with all the faults of unions, they are the evil scapegoat.
And that brings us back to Maine, just the most recent state to grab headlines for their administration's ridiculous ideas about unions. So ludicrous that merely having a mural in their Labor Department depicting organized labor is salacious enough to have the entire thing removed. This is at best censorship and at worse it's an attempt at psychological warfare by removing images of the enemy idea.
What do you think of this Union Busting business? Sure, there are pro's and cons about unions, but how do you feel about the manner various state governments are going about addressing these issues? Do you agree that the mural should have been taken down?
Administration officials in Maine said the change was needed to reflect a new image for the department, one not tilted toward organized labor. They said visitors to the lobby had complained that the mural is anti-business. Because, you know, if labor unionizes and asks to be paid fairly...that's bad for business.
Love and Lyte,
Fire Lyte