Top 10 Ways To Not Teach Your Kids Magic
Top 10 Ways Not To Teach Your Kids Magic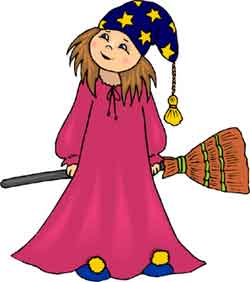 Do not tell your children to jump off the roof and fly. They will go splat. I don't feel there's any further explanation for this one. And don't try to weasel your way out of this one by saying you're teaching them to astrally fly. That's just lying to your kids. So what are you? A liar or a kid splatterer?
Do not allow them access to arcane books of magic unsupervised, especially around Halloween. In fact, go ahead and make that one all year. T hey will either summon up three ugly, yet musically gifted, witches or otherwise cause mayhem and havoc at their school. Either way, you're the parent and that means you've got to be the one to get rid of the witches or the mantis demon or the plague of boils and toads. That kind of time is just too precious and is better spent watching whatever Kardashian is making a sex tape. We're teaching our kids morals, after all.
Do not take your children to a train station and tell them to run at the wall at full speed. I realize it might be hilarious to watch, but we should really refer back to point one here. There is no separate train station on the other side of the wall and they will not go to a special magic school. They will get a concussion, however, which is kind of like being at a magic school. They'll see stars and feel like they're flying.
As fun as it might be, do not create a servitor spirit and place it in their teddy bear with the purpose of having the teddy bear teach your children magic. That kind of crap worked in the Last Mimzy, but will only serve to confuse and embarrass your children when they go to their first serious group rituals and place their teddy bear on the altar as a symbol of power. Inevitably, because nobody will understand the might power of the Teddy Bear spirit guide, they will create their own new branch of Paganism called 'Teddybearism' and they will be the first Teddites and then we will all be making fun of your children for believing in Teddy Bear magic. Until, of course, Llewellyn publishes their book, they become fabulously wealthy, and millions of people around the world begin espousing the truths of the ancient and powerful Teddy Ruxpin. (Really, isn't anybody else creeped out that that thing could talk along with the movie? Servitor spirit if I ever saw one!)
When you feel that your children are getting to that age where you want to teach them magic, do not sit your 4 year old down and begin by saying, "Ok, Bobby, you know how Timmy pushed you down at school yesterday? Well, we're going to give him boils and curse his family line for 7 generations. You down with that?" Really, you should teach them the basics first. You know, basic, 101 stuff, like summoning Cthulhu in the bathtub or making the head cheerleader's hair fall out. Then you can teach them how to curse Timmy's bully spawn for 7 generations. Priorities people!
Do not teach them love spells. Ever. Unless you are one of the aunts from Practical Magic and you have your bottle of molasses ready to make things more interesting. Love spells are never as fun or as thrilling as the movies make them out to be. They will not create a love zombie out of Derek, the football god, with some angsty words and sexy paste. Unless your son or daughter is also a god of some type. Perhaps Loki. Is your child Loki? If so, please let me know where you live so that I may move to the other side of that hemisphere. Wait…what were we talking about? Oh, yeah. Your kid's a fatty and none of the popular people will ever date them despite what magic spell they do. (Unless it's that summoning Cthulhu in the bathtub trick. That might garner cool points, or, at least, dead popular kids in which case instant climbing of the social ladder. Score!)
Do not, as a general rule, allow them to pull a sword - or any other implement - out of solid rock. Especially if a crazy old man in robes tells them to. Crazy old men are probably getting off on the phallic nature of the sword and that's just an unpleasant thought. If your kid does pull a weapon out of stone then they will - and this is just science talking - have sex with their sister and make an illegitimate son that will eventually rise up and kill them. I mean, really. It's basic math. Or science. Or something. Either way it will happen, so just don't.
Do not tell them every character they happen to read in a fictional story is real on the astral plane. Please? Let's end that madness with this generation. Sorry…I'm projecting. But, really, if you do…I will make fun of them. And you. And 7 generations of your family line.
If they can move things with their mind, do not let them. Seriously, I saw X-Men 3. I know what happens when telekinesis runs wild. Just be a good parent and talk to the school about placing them ahead a grade or 3. It worked for Matilda, it'll work for your brat. They're just bored, and idle kinesis is the devil's kinesis I always say.
Do not allow them to animate objects around the house for the purpose of daily chores. That instills weak character and poor personal accountability skills. Do you really think that when they grow up and go work at McDonald's, do you think that Bob the manager is going to let them fry those French fries with a little flick and swish action? Absolutely not! He's gotta really get in there and get those grease burns if he ever hopes to be promoted to cash register. It's a long climb to the top of that fat food fast food chain, and your goiter isn't the only one competing! What? You thought your kid could do better than Mickey D's? Hey, you taught him not to do chores! Your kid's failure is on you. Really, why didn't you think about switching out those spells you taught him for, I dunno, prosperity magic or "get my shit done and not work at the McDonald's drive-thru" magic. Bet you saved all that good stuff for yourself, huh? Selfish.