Everyone Gets A Trophy: The Millennials Need A Pacifier
Millennials
. Generation Y. People born in the 80s and early 90s that have grown up and are coming to prominence right now. It seems like everyone is talking about them lately, and about how parenting tactics have turned them (us) all into sniveling wimps in the face of the current job market.
Today, a story is being circulated that a woman is suing Chuck E. Cheese (you know, the place where a kid can be a kid?)
because it teaches and promotes gambling
. Debbie Keller, the mom in question, says that many of the restaurant's games are Vegas/roulette style games that take moments to play and simulate a 'casino-style' atmosphere. While I was ironing my clothes and watching The View (don't judge), Sherri Shepherd said that she agreed with the sentiment. She went on to say that she is trying to teach her young son that hard work is what gets you ahead in life and not to depend on the luck of a rolling ball or a whacked mole to help you instantly succeed.
While I can eagerly get behind the sentiment that kids these days need to be taught hard work and dedication to a task, I'm not sure that Chuck E. Cheese is counteracting that type of mentality. Everything in moderation, right?
Allen Chernoff, a correspondent for CNN, is
running a piece this week
during the Newsroom block on that channel that discusses the high maintenance attitude of the so-called Millennials. I caught a bit of it today as well. While statistics show, according to the report, that 3/4 of folks my age believe that hard work and dedication will help you succeed, the definition of what hard work and dedication is supposed to be seems to be skewed from what it meant a decade or 3 ago. "They talk like they tweet," was the analysis by one of the people being interviewed. Employers feel that this new generation, thanks to technology, has learned to multitask far beyond the abilities of older employees. (thanks to the need to Facebook, Tweet, Text, and talk simultaneously...no I'm not making that up, apparently it's a marketable skill set now)
However, the flip side of that is younger employees don't seem to want to put in the effort that older generations do at the workplace. They don't want to read more than a few sentences of information. They speak in shorter, more blunt and direct ideas. Positively, they want their employers to give more concrete goals and standards, and to simply offer more frequent feedback - whether positive or negative. And they're also more willing to jump ship if an employment situation isn't working out. I have to admit, I identify with both of those sentiments. Conversely, they want to be spoken to in a coddling, comforting, uplifting manner, just like their parents have always done.
Yep, here we are back at parents.
Each generation wants better for their progeny than they got. That's the general hope for parents the world over. They want their children to be healthier, happier, more grounded, more successful, better looking, more popular, more kind, and just more than they ever were. That's our pride, our joy, and (to repeat) our hope for the future. It's evolution, folks. The next generation needs to be better, stronger, in order for us to thrive as a species.
But I believe we're taking a step back.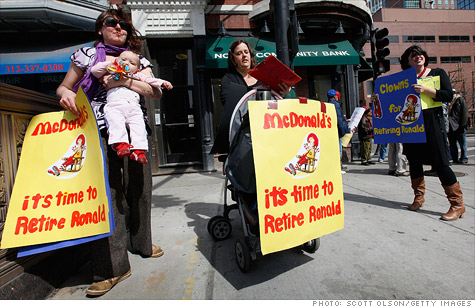 McDonald's mascot
Ronald McDonald is under fire
, and has been for quite some time, along with the
inclusion of toys in their Happy Meals
. Nutritionists feel that the declining quality of McDonald's food paired with the bright, fun, kid-friendly aesthetic is selling impressionable children unhealthy food. Basically, if we dress crappy, overly fattening food up with a bright orange smile and give you a toy to go with it, then you'll forget how to say no to unhealthy choices and just dig in. Part of me sees the point, and part of me wonders why we're asking McDonald's to make the diet choices for our children. If you feel your child is getting obese because of their Happy Meals...then don't take them to McDonald's. Isn't that, like, basic math or something?
It's been a running joke on TV shows like King of the Hill, American Dad, and more that children in little league sports get a trophy whether they win or lose. Everyone gets a trophy. Your child no longer has to feel the sting of defeat, because they get the same shiny piece of fake metal that the kids who kicked their ass gets. For showing up. And losing.
Who are we? And we wonder why the rest of the world is kicking our students' collective asses in academics. It's because our spirit of competition and winning is going down the "everyone is a special snowflake" toilet. The Millennials were brought up with
the Snowflake mentality
. They are told they are special, unique, and if they fail it's because the person firing them or not hiring them or dumping them just doesn't understand how special they really are.
In my family, I was in competitions for theater, public speaking, poetry, as well as playing at one time or another soccer, baseball, and basketball AND playing piano and French Horn.. Now, was I very good at any of the sports? Meh... I was decent at soccer because I could run well, but I didn't have the heart to practice and get good at anything else. My father - the ex-Navy Seal, former Olympic athlete, and current doctor - and my mother - the child musical prodigy on the cello - didn't let me off the hook when it came to practicing. I was told that if I wanted it, I had to work my ass off for it, and that I was going to have to fail frequently and often if I wanted to get better.
So, I became 2nd chair French Horn. I was 1st division at piano - until I quit, because I didn't like practicing when I could be doing other, more productive things, like watching television. But, because both my parents and my director never, ever coddled me...I was Best Actor every single year for 7 years in every competition I went to, and I went to state and placed in the top three in at least 2 of my 3 events every year of high school. Collectively, that means I beat out something like 65000-70000 kids every year for 4 years in each of my events. (Texas is a big state.)
Now, what did any of that teach me? It taught me that if I wanted to win, to be better than my opponent, that I needed to be practicing, researching, and getting better while my opponent was sleeping, watching TV, or doing something other than preparation. It taught me that I was not going to be handed that gold medal by sleeping in on Saturday morning or staying out late to party the night before a big day. Oh wait...I also had to hold down a job since the day I turned 16, working at least 30 hours a week, to teach me balance and responsibility.
It also taught me that, if I had worked my ass off, there was absolutely no shame in a 2nd or 3rd or 6th place finish. Because, once you got to the state level, once you were in the top 20 of 65-70000 kids, you couldn't say you weren't good. My Junior year of high school, I received silver medals in every event. In One Act Play, I didn't receive the State Best Actor award, I received the silver. I got 2nd place in Persuasive Speaking as well as Poetry Interpretation.
But, that was my favorite year of all in my high school competitive life. I didn't have the pressure of making that year count for scholarships like I did my Senior year, and I had the knowledge that I was talented. I could have fun.
My brother didn't have that. He was always more attractive and better at sports than I was. We all know that in Texas, being good at football meant a much different life in your formative years. He was passed from grade to grade, despite barely passing scores. He was never required to hold down a job, and he was told he was going to get into a Top 10 college straight out of high school and probably go pro.
We went to a 2A high school. For those of you that don't know, that means it was small. Our football team never made it out of district, which meant that they were never, ever seen by any scouts from any of the Big 10 schools. Today, my brother has failed out of college twice and is making a career out of being at a community college. He has never held a job more than a couple of months, has severe anger issues, and has aspirations to somehow work for his old high school's football team, probably as an assistant coach. Full circle, huh?
This generation isn't taught gambling by Chuck E. Cheese. They're taught to complain and seek an easy payday from the mom who wants $5 million because some kid's pizza parlor/game room has win/lose games. They're not going to be heavily sought after by current employers, because they're short-tempered and expect to be patted on the butt everyday at work. They're not getting fat because McDonald's has a clown mascot and toys in their Happy Meals. They're getting fat, because their parents cannot tell them no! They're passing on the responsibility of teaching their children right from wrong, proper food selection, and safe sex practices to schools and restaurants instead of doing it themselves. They're not going to ever learn that practice and hard work is it's own reward if they always win an award without trying.
They're going to continue the stigma of the
fat, lazy, Snowflake American
.
My generation might have some points. There are newer, better ways to do things. Employers, if possible, should set more concrete goals so that employees know what they're supposed to be doing and working towards. The workplace will advance positively if more frequent feedback is given, because how do you know you're doing a bad/good job if nobody ever tells you. But, I feel my generation needs an enormous wake-up call, and I'm starting to wonder who is going to be the one to give it.
What do YOU think about the new crop of Gen. Y/Millennials in the workplace?
Love and Lyte,
Fire Lyte