Maiden, Mother, Who?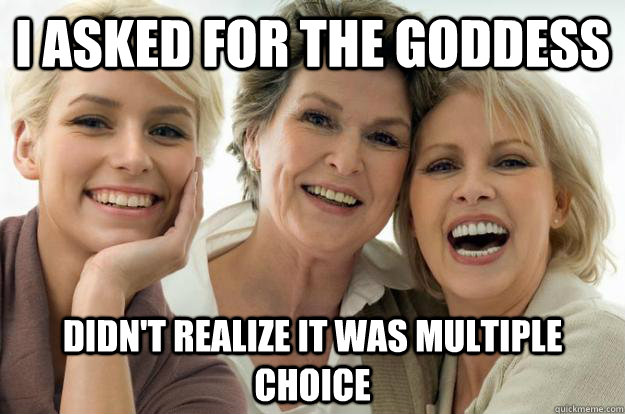 Neopaganism
is chock full, loaded to the gills, filled to the brim (can I get a few more references for "there's a lot of this stuff in here"?) with allusions to a Great Triple Goddess. The Fabulous MMC is in the building. Can I get a what what?!
Word.
So, I'm in the middle of writing this fabulous new article and show centered on the modern Maiden, Mother, Crone archetype and whether we can truly relate to Her in all her many aspects if we haven't/cannot/don't wish to become one of those three things. Inspired largely by an email received for my joint show Inciting A Brewhaha, a listener asked how to relate to the Goddess when she isn't a mother. I've dealt with the issue of relating to myth before in the episode Inciting A Gay Riot, but I think the topic deserves revisiting.
Here I am, however, crowdsourcing feedback before you've even had a chance to hear or read what I have to say on the subject. Be that as it may, here's my question:
What are your thoughts on the Maiden/Mother/Crone Goddess archetype?
I'd love it so much if you'd leave your thoughts in the comments below so that everyone can join in on the fun. Do you find it hard to relate to these three? Are they too constricting? Too open? Do they apply to every person? Woman? Do they have to? Does the idea of a deity with multiple personality disorder keep you up at night?
Answer these and many more questions in the comments below!
Love and Lyte,