Book Review: The Hunger Games Trilogy
Recently
, I finished reading the Hunger Games trilogy by Suzanne Collins, veteran writer of children's shows and another YA series about a twisted Wonderland underneath New York. I will start off by saying that, if you haven't read the books, I will attempt to be as spoiler-free as possible, but no guarantees.
Click ahead to read the full review, acknowledging the probability of some small spoilers:
The Plot
The setting of the series is a post-apocalyptic North America/United States in which, 75 years ago, a civil war broke out that ended in the creation of an incredibly tyrannical government (The Capitol) and 12 Districts. The 12 districts are responsible for one thing that helps the country as a whole function - agriculture, coal, electronics, etc. Each year, as punishment for the uprising, the various districts must randomly select 1 boy and 1 girl ages 12-18 to compete in something called The Hunger Games.
They put the 24 children in an incredibly high tech arena and watch as they slowly kill one another until one is named the victor. The victor's district gets increased food rations for the next year and the victor proper becomes something of a reality show celebrity for the rest of their life. They're given wealth and have no job, though they're expected to take up some kind of hobby.
All this is going along splendidly - annually killing off 23 children, keeping the country in a state of fear and immense poverty, hunger - until a girl volunteers as tribute in order to save her younger sister from entering the games: Katniss Everdeen. Katniss' games are different from other games in that there are 2 victors, because of some quick thinking, tenacity, and a desire to piss off the Capitol on the part of our heroine.
The following two books tell a story of a populace that saw, in Katniss' win, a Capitol that could be defeated. There is an uprising. A surprise appearance by a mysterious, nuclear powered District 13 and a second President who may or may not be a better option than the current tyrannical despot who is ruling things from his seat in the Capitol. There are twists, turns, beautiful men that wear nets for clothing, and many, many bumps to the head used as plot devices.
The trilogy is a very fun, fast-paced read. If you have a long weekend and very little to do (or if you're in the midwest and are snowed in), put this on your kindle or download the audiobooks and take a trip to Panem. It is well-written and rich with a whole new world to learn about that very much parallels our own. It is plausible, which is potentially the scariest part of the books.
A Lack of Faith
Something I found interesting in its absence was any notion of religion in this future world. Whether it was intentional on the part of Collins or not, I do not know, nor, am I sure, that I care. Because, her intention would not change the reading of the book.
Studies tell us that the more impoverished, uneducated, or destitute a population is, the more they tend to turn to religion, spirituality, magic, etc. What I found quite striking is that these people are impoverished, uneducated, destitute, and without much hope of any kind to speak of, yet they do not have any faith to turn to. There is no notion of saying a prayer for safety or hoping for the grace of a divine figure or even the image of a holy relic...anywhere. In any of the books. Odd.
One might think that, possibly, this tyrannical government forced out the very notion of faith, in order to take even that away from its people, but then where is the faith of the people in the Capitol? Where is the backstory to tell us how or why this sense of spirituality was removed from the world?
It is merely absent, as if it never existed. While it is a book for the Young Adult group, I suppose I found it a very odd and glaring item to omit. Would it have changed anything in the slightest? Well, I suppose the answer is yes and no.
Yes, in the sense that that small bit of faith might be enough to keep some members of the populace going through times of trouble.
No, in the sense that our world has a sense of the spiritual in it now, and...have you seen the news lately? People still do horrible, awful, terrible things, many times in the name of their faith.
But, it was an odd omission, nonetheless.
The Obligatory Love Triangle
WHYWHYWHYWHYWHY must every single Young Adult book series include a love triangle? WHY?! Is it a publishing requirement? We saw how popular Twilight got and decreed that all books must include one girl choosing between 2 guys?
Peeta and Gale, the two men in the triangle, are initially presented as co-tribute and friend, respectively. By the end of book one, this is who they remain. However, almost immediately in book 2 and throughout the remainder of the trilogy, the competing affections of the two young men become Katniss' basis for nearly every action she takes.
Our heroine began the series as a fully self-actualized, self-assured woman. She knows who she is, what she wants to do, and where she wants to go in life. She is written almost as though she were a male lead, which seems not only natural but novel and quite welcome. She does not need a man or anyone else to define her, as she is more than happy to define herself.
From the beginning of book 2, however, that girl is nowhere to be found. Yes, she survived the Hunger Games. Yes, she probably has some symptoms of PTSD. But, we don't get to experience her personal struggles, because she immediately changes everything about her personality and becomes a pawn of her burgeoning teenage emotions - a trait utterly and thankfully lacking in book 1 - and a pawn of the Capitol's whims.
The Love Triangle Requirement very nearly ruined the third book for me. I could stand it in book 2, because it wasn't quite as overwhelming, but by Mockingjay...I was very, very over it.
The Squandering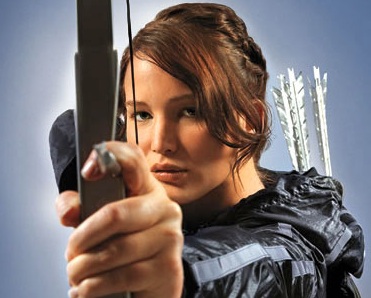 Collins had an amazing opportunity to write a new kind of heroine. The Girl Who Was On Fire in book 1 became, as one friend on Facebook told me, the Girl Who Weeps In Closets. She became Bella with a Bow. Bella from Twilight being, in my opinion, one of the single worst, most anti-feminist characters to appear in modern literature.
But Collins had created a female Harry Potter. A girl who could carry a series completely on her own, without the trope of a hormonal, sophomoric heart hurtling her from man to man in an attempt to make her appear...sexy? special? more complete as a character? Then, without any rhyme or reason, she took that girl from us.
Yes, we get some neat action sequences, and some ready-to-be-filmed stand-offs between her and a few authority figures, but the tenacious, defiant rock star of became almost a secondary character in her own trilogy.
If Katniss Everdeen from book 1 is the heroine, then Katniss from books 2 and 3 is her tragic, unlucky in love best friend.
The Synopsis
At some point, I really hope my book club gets a chance to read this. I would very much love to discuss the book trilogy in a group setting and hear multiple viewpoints. Whether that happens or not, I will, in all likelihood, reread these books later this year. I want to read them past the disappointment of The Love Triangle Requirement. I want to read them for what they are, knowing what they are and see if I feel differently.
Despite my misgivings, the books are wonderful reads. The first is, in my opinion, the best, and the Katniss Everdeen in book 1 represents a new kind of heroine. She is one of the best-written women in modern literature, despite coming from humble YA genre origins. The Katniss from books 2 and 3...well, you know by now how I feel about her.
They are perfect for a road trip or a snowed-in weekend. They are escapist, political, and completely Riotous.
My ratings for the books were 5, 3, and 3 respectively, with an average of 3.7 for the entire trilogy.
Have YOU read the Hunger Games trilogy? What did YOU think?
Love and Lyte,